Welcome to alice nine. world, an English fansite made specially for the Japanese Rock Band alice nine. From here, you'll be able to find out their latest news, latest releases, get to know more about this band and check out the links station for more of alice nine. and some other jrock band's fansites. Please go to Site Intro before you download anything from here. As for now, enjoy your stay here and do visit alice nine. world again. Don't forget to sign my guestbook before you leave.
Thank you!
-Yaya-
-Scrollable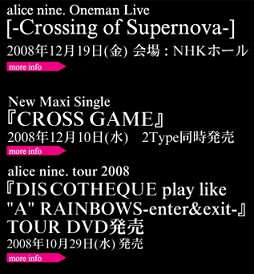 alice nine. Oneman Live
[-Crossing Of Supernova-]
Date: 2008.12.19
New Maxi Single
[CROSS GAME]
Release on: 2008.12.10
Two types single.
First press comes with a DVD
alice nine. tour 2008
[DISCOTHEQUE play like "A" RAINBOWS -enter&exit-]
Coming on sale on 2008.10.29
_____________________________________________________________________________





NEW UPDATE - 19 April 2009



Hello all! I apologise for not updating. Been busy with my own life now. I'll try my best to update more. Sorry it took me so long to update this site. DD:
-Video Downloads updated!! Uploaded CROSS GAME and the beautiful name PVs.

I'll get the single and album uploaded soon. Check this space for update(:
Thank you so much to all you people who still visits this fansite(:





ANNOUNCEMENT - 01 October 2008



Look people! Its not that the pictures are gone its just Bandwidth Exceeded! Maybe because people are hotlinking my images, thats why. Just be patient, the images will come back after awhile. I know just how great the site Hanabi is but please people, don't you think its not very nice to always advertise about another site on my site here!

And the thing is, the site Hanabi is already under my affiliate so there really isn't a need to go on and on for advertising that site right? Sorry if you think i'm just being a bit too over for this but well, this just kinda get into me and so i have to bring it up.

I don't know when the next update will be since my comp got virus just some time ago and everythig isn't going that well for now so ya. But nevertheless, i still thanks you people for visiting my site and tagging, leaving a message at my guessbook and all the supports. I'll try my best to get on with the updates soon. =)

Once again, i apologise for all the inconvenience caused.




NEW UPDATE - 08 September 2008



Hey guys! I updated again! Hahaha. I'm trying to get things up quickly but it seems like uploading Pvs, images etc. takes really long. D:
Alright, here's the update for today.
-Video Downloads updated! Uploaded Shunkashuutou, Gekko Yoku and Rainbows PVs. XD
-Icons updated! Thanks Sorapon once again! Sorry for posting it up only until now.
-Wallpapers updated! Thanks Shannon for contributing!
-Added 2 new affiliates! Check them out! XD

Thats it for now. I'll update again soon. Many stuffs to update with but so little time to. Gahh..!!




(After sucha long time) NEW UPDATE - 07 September 2008



Well, hello people. Its been awhile. =)
I really apologise for not updating this site after sucha long time. Lets see, its been like 3-4 months since the last update? The very sad thing for myself is, i lost my fandom in jrock and alice nine. Not totally though. =)

So i'm finally here to update! Hahaha. You people are just love love love! Just look at this site, it hasn't been updated for sucha long time yet people are still here chit-chatting at the tagboard! I'm so happy i have such good fans like you all on my site. XD

Well, not much update though. I didn't even know where to start off with the update. Alright, here it is.

-Song Downloads updated! Uploaded Rainbows Single
-News Board updated!

Yup, thats all. I'm so sorry for this. I need some time to update myself with news and etc of alice nine. too. Haha.

Well all you sweetys, i'll try my best to update more often from now on and keep this site alive. I lost my job about a month ago anyway. Haha. What a shame. Oh well. Thank you all so much for always here and supporting this site! alice nine. rocks all the way up!


With lots of love,
Yaya, Blythe Kimberly